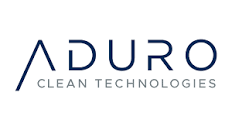 Aduro Clean Technologies Inc. uploaded a News Release
September 5, 2023
Follow
Aduro Clean Technologies Provides Update on Shell Game Changer Program
Highlights:
Aduro Clean Technologies has successfully reached the midpoint of the Shell GameChanger program, a significant milestone in their mission to transform waste plastics into valuable resources.
Aduro initiated commissioning of a pilot-scale continuous flow reactor for plastic upcycling (R2 Plastic) in July 2023, marking a crucial step toward sustainable, continuous production.
Aduro expresses gratitude for the invaluable support and expertise provided by Shell through non-dilutive funding, technical guidance, and mentorship, propelling them toward commercial implementation of their innovative Hydrochemolytic™ Technology.