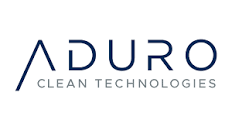 Aduro Clean Technologies Inc. uploaded a News Release
August 8, 2023
Follow
Aduro Clean Technologies and Prospera Energy Advance Collaboration on Pilot Plant Project for Partial Upgrading of Bitumen
Highlights:
Aduro Clean Technologies Inc. announces progress in collaboration with Prospera Energy Inc. to develop a precommercial pilot plant using Aduro's Hydrochemolytic technology (HCT) to convert low API bitumen into higher value products.
The collaboration involves a three-phase project engagement plan, with Phase 1 including laboratory and continuous flow work using Prospera bitumen and Aduro's HCT process. The commissioning of the pilot-scale continuous flow reactor for HBU is planned for Q3 2023.
Phase 1 aims to be completed by December 2023 and will include comprehensive testing of 6 barrels of low API crude from Prospera's heavy oil properties. Prospera will pay Aduro a monthly fee of $25,000 CAD for Phase 1 services, capped at $125,000 CAD.
The collaboration aims to enhance hydrocarbon recovery, prioritize environmental sustainability, and drive innovation in the energy industry. It will establish a robust business model, evaluate technical and economic viability, and pave the way for commercializing Aduro's innovative solution.
Both companies emphasize the potential transformative impact of the technology on their operations and express commitment to leveraging this opportunity to the fullest.