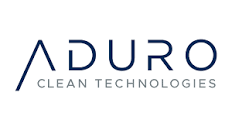 Aduro Clean Technologies Inc. uploaded a News Release
May 23, 2023
Follow
Aduro Clean Technologies Announces $1.49 Million in Proceeds from Exercise of Warrants
Highlights:
Aduro Clean Technologies successfully raised $1,490,035 through the exercise of warrants by its shareholders.
The warrants were part of a private placement that closed in May 2021, allowing warrant holders to purchase additional shares of Aduro common stock at $0.80 per share.
A total of 1,862,544 common shares were issued upon the exercise of warrants, demonstrating strong support and confidence in the company's mission and potential.