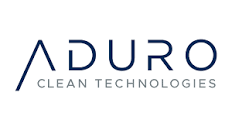 Aduro Clean Technologies Inc. uploaded a News Release
May 30, 2023
Follow
Aduro Clean Technologies Engages in Panel Discussions at Leading Industry Conferences
Highlights:
Aduro Clean Technologies Inc. will participate in three industry conferences in June 2023, including the CIAC Ontario Responsible Care Workshop and Plastics Recycling LATAM 2023. The company aims to showcase its innovative HydrochemolyticTM Technology (HCT) platform and engage with key stakeholders in the chemistry, plastics, and recycling sectors.
Abe Dyck, Head of Corporate Development at Aduro, will join a panel discussion on "Decarbonization in the Chemistry and Plastics Sector" at the CIAC Ontario Responsible Care Workshop. The panel, moderated by Bob Masterson of the Chemistry Industry Association of Canada, will explore the role of Aduro's HCT in decarbonizing the industry, with insights from industry leaders Rocky Vermani and Dan Taylor.
At the Petrochem Canada Conference 2023, Abe Dyck will present on Aduro's Hydrochemolytic Technology platform, which converts lower-value materials into higher-value feedstocks and products. Aduro will also exhibit at the conference, allowing attendees to explore the Hydrochemolytic™ technology and learn about its potential in the sustainable transformation of the petrochemical sector.