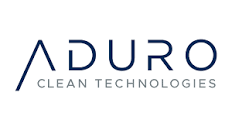 Aduro Clean Technologies Inc. uploaded a News Release
June 15, 2023
Follow
Aduro Clean Technologies Expands Presence in Europe, Establishing Subsidiary in the Netherlands
Highlights:
Aduro Clean Technologies Inc. has established its European subsidiary, Aduro Clean Technologies Europe BV (ACTE), based in Geleen, Netherlands.
ACTE will focus on advancing the Hydrochemolytic™ process for plastics upcycling within the European market, with the goal of constructing a future demonstration unit at the Brightlands site.
Aduro plans to establish dynamic engagement with Europe-based stakeholders, build a consortium of local partners, leverage government grants, and form alliances with local service providers to support the commercialization of their patented technology.