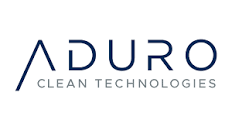 Aduro Clean Technologies Inc. uploaded a News Release
July 6, 2023
Follow
Aduro Clean Technologies Provides Corporate Update and Engages Outside The Box Capital Inc. for Marketing and Investor Relations Services
Highlights:
Successful commissioning of the pilot-scale continuous flow reactor for Hydrochemolytic™ Plastic Upscaling, generating data and transforming waste polymers into valuable liquid hydrocarbons.
Expansion of research and operations capabilities through the onboarding and training of process engineering, operators, and project management personnel, strengthening the company's ability to run multiple continuous flow processing units simultaneously.
European expansion with the establishment of Aduro Clean Technologies Europe (ACTE), strategically positioned at Brightlands Chemelot Campus in the Netherlands, to advance the Hydrochemolytic™ process for plastics upcycling within the European market.
Closed oversubscribed financing and exercise of warrants, raising significant funds for the company's growth and development, further supporting its technology advancements and commercialization efforts.