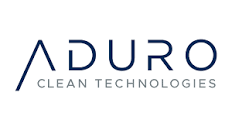 Aduro Clean Technologies Inc. uploaded a News Release
August 17, 2023
Follow
Aduro Clean Technologies Welcomes Karen Scholz from Brightlands Chemelot Campus for a Collaborative Week of Advancements
Highlights:
Collaboration with Brightlands: Aduro Clean Technologies is excited to host Karen Scholz from Brightlands Chemelot Campus, highlighting their strong alliance and commitment to sustainable waste plastic recycling solutions.
Technology Showcase: During the visit, Karen Scholz will tour Aduro facilities, gaining insights into Aduro's operational progress, recent R&D activities, and the pilot-scale continuous flow reactor for Hydrochemolytic™ Plastic Upcycling ("R2 Plastic").
European Expansion: Aduro's initiative to establish a subsidiary at the Brightlands campus in Geleen, Netherlands, reflects their commitment to expanding their presence in Europe, aiming to demonstrate the Hydrochemolytic™ Plastic Upcycling technology as an innovative solution for recycling challenging waste plastics on the continent.