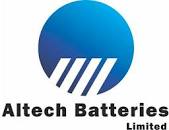 Altech Batteries Limited
ASX
|
ATC
Battery Technology
Industries
Battery Technology

Battery Material Technology

Sodium
Altech Chemicals Ltd is a specialty battery technology company that has a joint venture agreement with world leading German battery institute Fraunhofer IKTS ("IKTS") to commercialise the revolutionary CERENERGY® Sodium Alumina Solid State (SAS) Battery.
CERENERGY® batteries are the game-changing alternative to lithium-ion batteries. CERENERGY® batteries are fire and explosion-proof; have a life span of more than 15 years and operate in extreme cold and desert climates. The battery technology uses table salt and is lithium-free; cobalt-free; graphite-free; and copper-free, eliminating exposure to critical metal price rises and supply chain concerns.
The joint venture is commercialising its CERENERGY® battery, with plans to construct a 100Mwh production facility on Altech's land in Saxony, Germany. The facility intends to produce 10,000 10Kwh CERENERGY® battery modules per annum to provide grid storage solutions to the market.
Show More +
Show Less -
---
Contact